February 24, 2013 - Master Cameron Hirst with his teacher Kai Uwe Pel in Shanghai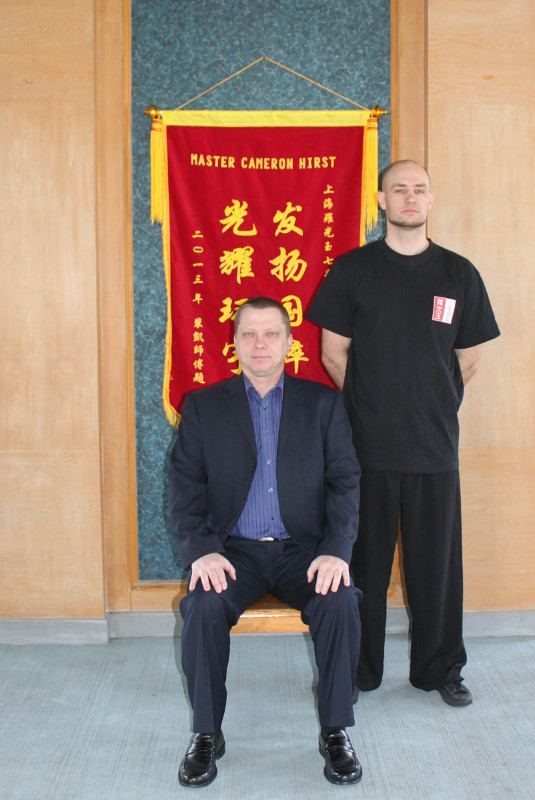 PRAYING MANTIS KUNG FU: A DEADLY GAME OF STRATEGY
The Northern Praying Mantis system is a very famous and popular style in China and all over the world today. It was created in the Shandong Province of northern China approximately 350 years ago. Legend has it that a Shaolin Monk named Wang Lang, who had studied other systems of Shaolin, observed a praying mantis in combat with a cicada. He was impressed by the strategic fighting of the victorious praying mantis. It attacked and retreated at the right moments, used long distance blows and close crushes effectively, grasped and released methodically. He then captured the praying mantis and discovered that its movements contained twelve principal methods of attack and defense. By imitating the forearms of the praying mantis, adding the swift steps of the monkey and certain aspects of seventeen other famous Shaolin systems of that time, he combined the principles of rigidity and flexibility to create the system as Praying Mantis. Since then, Northern Praying Mantis has become a complete system in the martial arts circle with each generation of disciples supplementing it with new concepts and techniques. One added the iron-palm techniques, another added internal breathing exercises, and still others different weapons techniques. One unique characteristic of this style is that the hand movements are coordinated with the footwork, it is considered the fastest fighting system and the most deadly Shaolin system of strategy.

Classes cover all aspects of the system. You will study and learn:
- The Traditional Training Forms - Fighting sequences for building footwork, combinations and power.
- Qin Na - Joint locking. Manipulating the opponent's limbs.
- Application of the '12 Keywords' - Start from this platform and practice your combat technique with controlled exercises.
- Fitness and Conditioning - make your body strong and flexible.
- The Traditional Weapons of China - our Tang Lang School also teaches weapon skill.

Our style is the Seven Star Praying Mantis lineage. This style is most readily identified with Grandmaster Luo Guang Yu. Master Luo came from Shandong to teach in the Shanghai Chin Wo Men from 1919 onwards and so his style become nationally famous throughout the country. Master Luo often defended his style and his teacher's (Master Fan Xu Dong) honour in challenges and placed this deadly art's high skill level firmly into the modern public mind.


传统的螳螂派功夫 起源于少林,曾是霍元甲创办的 上海精武馆主要教授的中国四大传统功夫之一。是一个经过时间洗礼、实践证明的优秀 的中国传统功夫门派。
裴凯师傅 KAI UWE PEL(德国),16岁便赴香港学习传统螳螂派功夫,先后师从 香港、 马 来西亚与新加坡的多位传统螳螂派大师。经过多年的刻苦训练,系统地学习了传承于罗 光玉大师的传统七星螳螂派功夫。
迄今为止,裴凯师傅已经从事传统螳螂派功夫教学25年有余,曾任香港精武体育会助教; 是新加坡精武体育会终生荣誉会员、德国精武体育会的发起人;先后任教于香港、新加 坡、德国、意大利、西班牙、波兰、美国和上海精武体育会。
传统螳螂派功夫,与现代中国的武术不同,不只是为了健身、竞技表演和竞技比赛,而 是为了自卫、防暴制暴、是具有实战功能、能在搏斗中运用的真正的功夫。
传统的螳螂派功夫,是通过师傅亲授弟子的方式辈辈相传的。由于时局的动荡、社会的 变革、人事的变迁等历史原因,中国传统的螳螂派功夫仅由部分移居海外的师 傅带往香港、马来西亚、新加坡以及美国,形成多处的分支学校。其中,尊重传统、刻 苦训练完整保留传统功夫体系的分支学校不多。目前,传统螳螂派功夫保留比 较完整的地区仅存在于马来西亚、新加坡,其余的地区,例如香港、美国等地,由于传 承的误差、多系统的混合、传统螳螂拳的系统已经不够完整。
2002年,裴凯师傅应邀于上海 精武馆教授传统螳螂派功夫,之后移居上海。为了延续、传承传统,裴凯 师傅持续从事传统螳螂派功夫教授。目前的授课地点为:上海金城绿苑社区俱乐部、社 区花园、莘庄公园等地,有选择性地收授学生。欢迎警察、保镖、有志于系统 学习传统螳螂派功夫的传统功夫爱好者前来垂询学习。
Master Cameron Hirst teaches Seven Star Praying Mantis Kung Fu in Shanghai, China.
Cameron Hirst 师傅在中国上海教授七星螳螂拳搏杀技巧