NEW SEVEN STAR MANTIS SCHOOL GRAND OPENING IN SHANGHAI
The Shanghai Luo Guang Yu Seven Star Praying Mantis Kung Fu School celebrated the grand opening of its newest location on November 12, 2011, in Qing Pu district. Boasting over 300 square meters of spacious training facilities with modern amenities and overlooking the Suzhou creek, the new school will serve as an extension of Master Pel's efforts to promote traditional Seven Star Praying Mantis kung fu publically in the great city of Shanghai. It is also featured as the only public kung fu school in Shanghai teaching strictly traditional Seven Star Praying Mantis Kung Fu.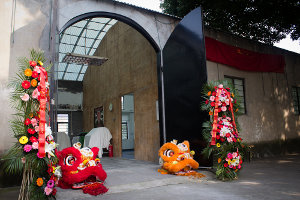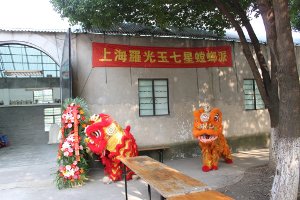 About the Festivities
Festivities started Saturday afternoon 2:18pm with highlights including the unveiling of new school signage, fireworks, traditional Southern (Foshan) lion dance, Mantis forms demonstration by Master Pel, and a barbeque featuring traditional German food. In attendance included head instructor Kai Uwe Pel, partners, students, friends, and family.
The opening lion dance ceremony was initiated by Master Pel with the "eye dotting" (Dian Jing) ritual symbolizing the awakening the lion's spirit. The traditional performance blessed the four corners of the training hall warding off negative energies and blessing the school with good luck and prosperity to come.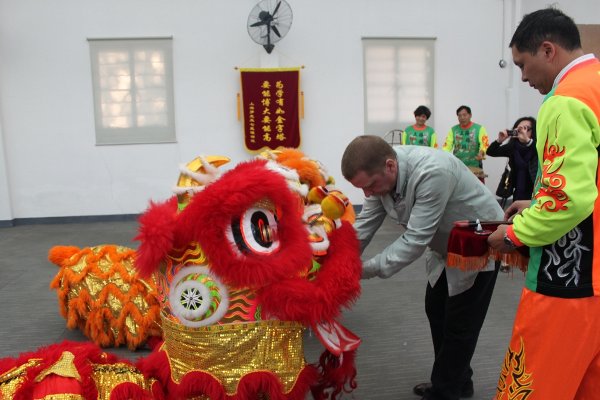 Following the lion dance Master Pel and students delivered exciting demonstrations from a number of traditional hand-sets. Master Pel provided an explosive performance featuring Seven Star Praying Mantis's highest handset - Beng Bu Quan. Following, students Nathan Wright and Cameron Hirst demonstrated the hand-sets Yi Lu Zhai Yao, and Mei Hua Lu respectively.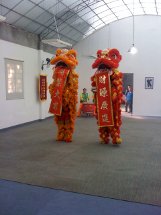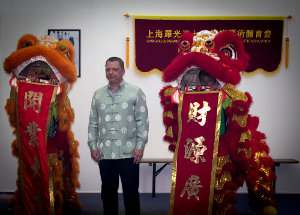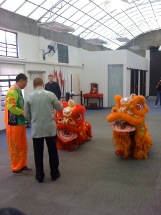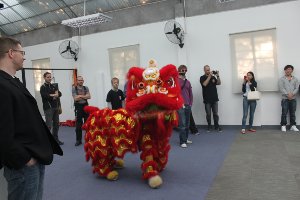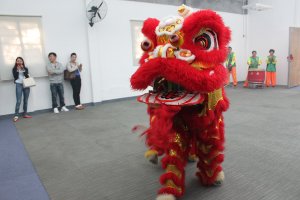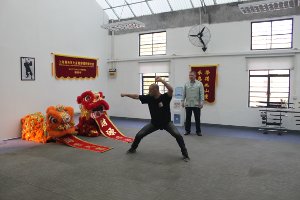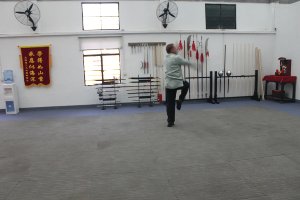 The remainder of the evening was followed by group photos and a spectacular barbeque featuring traditional German prepared cuts of beef, pork, chicken, sausage, and select German / Danish beers. Overall it was a successful grand opening amongst friends, family and students.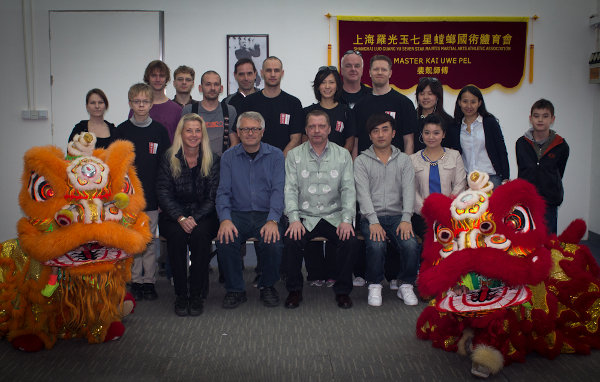 About the New School
Although Master Pel has been teaching Seven Star Praying Mantis Kung Fu in Shanghai for ten years, the opening of the new school location remains significant on a number of levels. One, it marks the return of Kai Uwe Pel to the public teaching arena. Previously he was teaching privately and closed door. Two, with the return of Master Pel, it also marks the return of Seven Star Praying Mantis to Shanghai's public arena. It was first brought to Shanghai Jing Wu Men (cantonese: Ching Mou Mun) in 1919 from Shandong province by Master Luo Guang Yu. Three, it is the only traditional Seven Star Praying Mantis Kung Fu school in Shanghai, and strictly follows the traditions, teachings, and approach of Master Luo Guang Yu. This presents perspective students with a unique opportunity. And lastly, it boasts some of the best training facilities for traditional Chinese martial arts in Shanghai.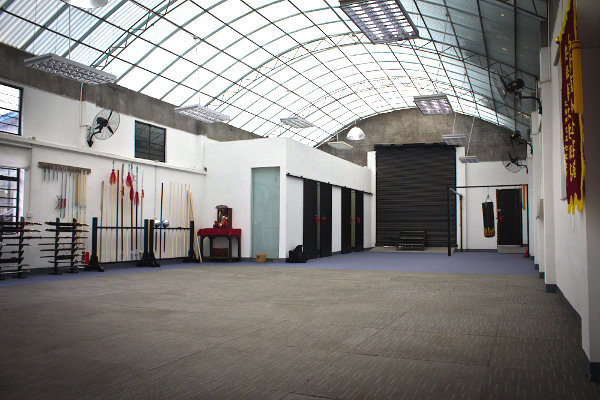 The new facilities provide students with over 300 square meters of space including a large open carpeted and matted training hall; a large collection of traditional weapons, heavy bags, pads, and equipment; and newly modern renovated amenities including fashionably designed change rooms, shower stalls and bathroom facilities. In addition it features a well stocked (not-for-profit) health shop, and a beautiful outside patio overlooking Suzhou creek making the perfect setting for summertime corporate events.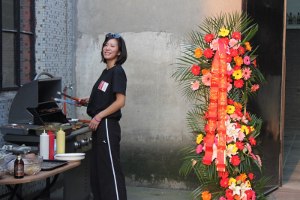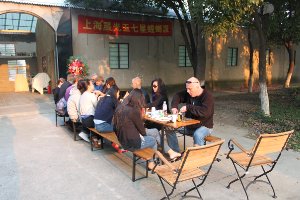 About Master Kai Uwe Pel
Master Pel has been involved in the traditional Chinese martial arts community for over 30 years dedicating himself exclusively to the study and teaching of Seven Star Praying Mantis Kung Fu under the Luo Guang Yu family lineage. He has lived in Asia for over 20 years including such countries as Hong Kong, Singapore, Malaysia, and China. Master Pel first moved to Shanghai in 2002 when he was invited by the Shanghai Jing Wu Men organization to teach Seven Star Praying Mantis full-time. This also provided him with the honor and privilege of being the first ever full-time foreign teacher in the Shanghai Jing Wu organization. Since then Master Pel has resided in the exciting city of Shanghai featuring 23 million people. He remains the grandfather of Seven Star Praying Mantis boxing in Germany, and is unarguably a living legend in the traditional Chinese martial arts community today. Master Pel remains a modest and unassuming individual who leads by example and prefers a simple no-nonsense approach to teaching, training, and work.

Contact:
Shanghai Luo Guang Yu Seven Star Mantis Kung Fu